Crafting A Social Media Audience That Works Wonders
Most business organizations today have started offering their services and products online. A majority of such companies use the best online marketing tools and strategies to capture a greater market share. In this context, it has become quite common for businesses to focus on using various social media channels for their business promotion activities.
However, many times, brands fall short of attaining desired level success despite using the different social networking platforms extensively. According to the experts from the leading social media marketing agency, this is mainly due to the inadequate knowledge possessed by brands about their target audience on various social media channels. Read about Common Digital Marketing Mistakes.
Social Media Target Audience – A Brief Overview
Social media target audiences can be defined as the specific group of people using these platforms that a company or a brand needs to seek the attention of. It is a well-known fact that the products and services offered by individual brands cater to people with specific buyer personas. Such users form the target audience for a business on the various social media channels being utilized by them for the purpose of business promotion.
In fact, being aware of social media target audiences is known to deeply impact every aspect of the social marketing strategy adopted by a brand. Having a clear understanding of the target audiences on social media is the key to developing an effective marketing strategy that offers the desired results.
Tips for Identifying Target Audience
Having a specific and detailed target audience is the most critical aspect for businesses to market their products and services effectively. It eliminates any chances of implicitly leaving out any prospective clients, genuinely interested in the offerings of a brand. However, to exploit the benefits of prioritizing their target audiences, businesses need to first identify this select group of users from amongst the millions of social media profiles.
Carefully Assess Key Data Points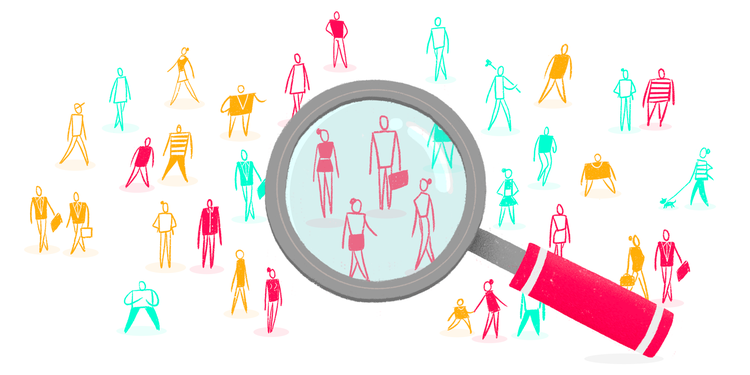 The first step in the direction of identifying social media target audiences for a business is the careful analysis of key data points. These data points should help businesses gain vital knowledge about people who can prove to be the ideal customers for them.
They may thus include age, gender, education, profession, income levels, and spending habits, geographical location, and time zone as well as the general interests of social media users. The important factor to remember here is that monitoring these data points provide businesses with only a generic profile of people who might be interested in their products and services.
Learn About The Prospective Clients Through Social Listening
Social listening can prove to be an effective tool to help organizations to better identify their target audiences. Social listening is essentially about monitoring the conversations about the business between social media users based on relevant keywords and hashtags.
This provides businesses with a great opportunity to learn about users who are actually following them across various social media channels and reaching out to others who are still considering the idea. In addition, social listening also helps brands to uncover other relevant hashtags and keywords being used by yet to be identified as potential target audiences.
Check Out Which Channels Are Most Popular
Given the diversity of various social media channels, a scattering of the target audiences across them is something that businesses have come to expect. However, for every brand, the likelihood of its target audience preferring a specific social channel over others is quite high.
That is why the professionals providing social media marketing services stress on identifying channels where their target audiences are likely to be more active. For example, the target audiences of B2B companies are likely to prefer LinkedIn while fashion brands may find a fairly greater preference for Instagram among their target audiences.
Keep Close Tabs On Competitors
An effective way of identifying social media target audiences is for the businesses to closely monitor the activities of their competitors on various social channels. In addition to providing the brands with a clearer idea about the kind of social user profiles that their competitors are targeting, keeping tabs on their competitors also enables them to monitor critical data points. This makes it easier for businesses to create more effective and result-oriented brand promotion strategies that appeal to the right people in the most impressive manner.
Targeting Social Media Audience Effectively
Identifying the social media target audience is only one aspect of ensuring successful business promotion. The other equally important aspect involves targeting the audiences effectively. This can be done by following the below-listed tips.
Understanding the precise buying behaviours and any spending hindrances they face.
Seeking answers to questions about further enhancing the value of business products and services for the audiences.
Learning about the type of content that the audience is likely to engage with during their buying journey with the brand.
Keeping the above factors in mind for identifying and reaching out to their target audiences can help brands to expand their reach in a more effective and result-oriented manner.