Digital Marketing Salary, Trends, and Predictions For 2022
In this particular article, we are going to talk about some of the important aspects of Digital Marketing like salary, trends and predictions for the year 2022. 
So, let's begin with the favourite of everyone that is salary. What does Digital Marketing salary in India 2022 look like? What is the Digital Marketing average salary in India?
It is always beneficial for the Digital Marketing career aspirants to be aware and possess information about these aspects. This would help in making a decision on whether to go ahead and pursue a career in this field.
What better than knowing what this industry has to offer, against your monetary requirements?
Here we go…
Digital Marketing salary in India 2022 scenario
The good thing is that a number of companies are deciding on the salary hikes, depending upon the digital skill set of the employees. As per a report, job roles demanding digital skills happen to pay 29% more than the ones which do not.
Despite of the fact that this year hasn't been a favourable one from the increment perspective, various reports have suggested that Digital Marketing is amongst those industries where employers are ready to pay a premium!
As a fresher,
For all the freshers out there who wish to pursue a career in this industry, there is nothing wrong in expecting a salary in the range of 10,000 – 25,000 per month.
A 30k salary can also become a reality if your interview preparation is good, your basics are clear, and the degree is from a recognized institution.
As an individual with 2-5 years of experience,
Digital Marketing individuals with this much amount of experience can get a salary in the range of 50 to 60k per month! Especially in the current scenario.
As a professional having an experience of 5+ years,
Those having an experience of 5+ years in the field of Digital Marketing, happen to fall in the elite class of individuals. Veterans if one can say! As such professionals are hard to find, they get paid in a hefty manner.
Anybody who possesses the above mentioned skill-set and experience, can get a pay package in the vicinity of 20-30 lakhs per annum! It's just that one needs to make the right choice as far as the company is concerned.
So, that was a look at the various stages in the career of a Digital Marketer, and the corresponding salary packages on offer.
Now, a look at some of the in-demand Digital Marketing job positions, and the corresponding average salary figures,
Digital Marketing Specialist: Rs. 4,69,000 per year
Content Strategist: Rs. 7,43,000 per year
Digital Marketing Analyst: Rs. 4,12,000 per year
E-commerce specialist: Rs. 6,64,000 per year
Social Media Manager: Rs. 5,00,000 per year
Hope our readers found these figures to be lucrative. Find a top course amongst the Digital Marketing Courses In Pune or the rest of India, and you could be earning any of the above figures! Of course, the skills and experience would matter.
Now we will focus our attention on the further aspects i.e. the trends and predictions in Digital Marketing for the present year. Excited already? Well, continue to read.
Predictions and Trends in Digital Marketing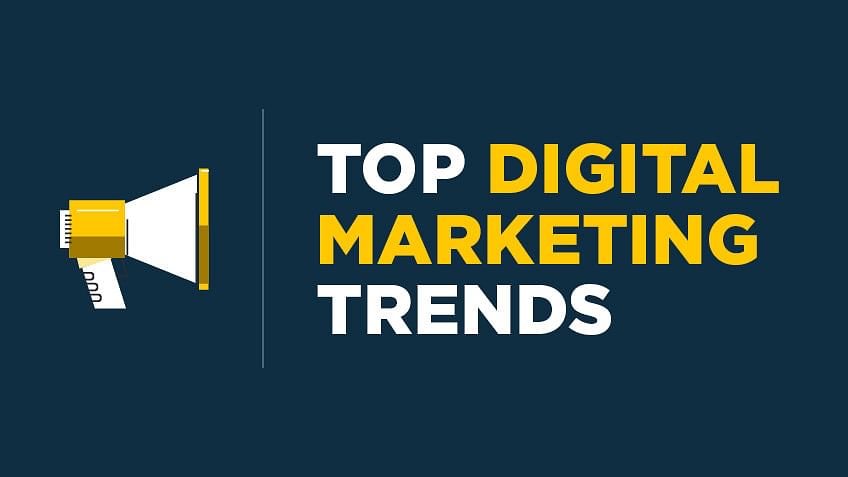 Data will continue to rule
So far, data has enjoyed a monopoly in the world of advertising and marketing. The fact cannot be denied that data will continue to be equally important as is the case with creative content.
Customers would want facts and information alongside reliability and creativity. That's the reason 2022 will see audiences looking for a balance between both accurate data and creative content at the same time. 
Short duration videos are said to be the new king of social
In these hard times when majority are finding themselves restricted to their homes, more and more number of people are turning to short-form videos for entertainment purposes.
Factors like quick catchy content, convenience in sharing over different platforms, decreasing attention span of the viewers have worked in its favour.
No wonder TikTok is the go to platform for the next generation. Seeing this, Facebook came up with Instagram Reels, while Snapchat deployed a major redesign.
TikTok for Business is all set to carry out an expansion of its advertising options and paid promotions in this year itself. This implies that marketers got to start studying and focusing on this elusive platform.
Going ahead, it is also being predicted that social shopping would gain popularity on such short-form video platforms.
Marketing becoming more and more conversational
With Chabot's being talked about everywhere, modern marketing is getting more and more conversational. People are preferring it this way, and so brands are responding to it.
When consumers get stuck with a question, as many as 82% of them look for an "immediate" response!
One of the reasons why conversational marketing is popular is the fact that it facilitates a person-to-person real time connection among the marketers and customers.
As opposed to traditional strategies, this kind of marketing is now present across various channels, thus enabling the businesses to reach their customers on their terms.
Be it platforms, devices and timings that are suitable to the customers.
Conversational marketing makes available a feedback based model that makes possible more loyalty and higher engagement.
Enrol into Digital Marketing Classes In Pune or elsewhere, and get professionally trained in line with the latest trends in this industry.
Artificial Intelligence (AI) is going strong
AI continues to grow strong. It has penetrated into almost every field/industry around, including Digital Marketing. It is known to play a pivotal role in forthcoming innovations in a dominating manner.
Therefore, one can without a doubt say that 2022 it is when AI will dominate as it is attracting a lot of global business and industry interest as well. Going further, it promises future-ready innovation accompanied by seamless automation.  
Voice based search will see a boom
Voice search based commands have been there since 2011 with the birth of Siri.
Off late, with the emergence of devices such as Alexa, Google Home etc., and them entering into our homes, users are becoming more and more used to asking for information using voice based search.
Currently, 20% of the total search queries are carried out by voice. This is what Google's CEO Sundar Pichai has indicated. That speaks a lot about the future of this trend.
Voice search oriented content optimization would provide businesses with the opportunity to reach out to newer audiences. One thing to consider over here is the fact that the results in this case are more often than not different than the ones where users carried out a regular text based search.
All in all, voice based search can enjoy the year 2022 and further!
Increased importance of high quality content
Users are always on the lookout for content that is relevant, timely and useful. This is exactly the thing that Google keeps hunting for, and rewards by giving higher search engine rankings.
Users look for assistance from the search engines to find answers to their questions. So, what better than your webpage providing them with the expected answers?
No wonder that good quality content is still the backbone of effective SEO strategies. In all probability, it will continue to be the same. Online ads turning out to be more expensive in the near future with no guarantee in terms of the customers responding to yours being one of the primary causes behind it.
The content that is being published has to be properly researched and should have a logical structure. This makes discovering the content and reading it easier.
A website's popularity in 2022 and in the times to come will thus be defined by none other than informative and quality content it provides. 
Get hands on training in content marketing and other leading concepts of Digital Marketing by joining Digital Marketing Institute In Pune ; Pune as the city would provide you ample career opportunities in the form of jobs, freelancing work etc. It's the right time to get started.
Personalization will be the key
A study has discovered that despite the concerns surrounding consumer privacy, as high as 72% of the shoppers out there will get engaged only through personalized marketing.
Shoppers have begun to turn a blind eye and unsubscribe mass targeted Email campaigns. On the other hand, they have started to prefer personalizable web pages as against the generic ones.
A few stats,
90% of the consumers accept that personalization appeals to them
63% of the consumers get very annoyed with generic advertising blasts
80% claim that they would prefer doing a business with that company which offers personalized experiences
This underlines the demand of personalization in the coming times.
These are the Digital Marketing trends and predictions for the year 2022, including the salary figures.
If all this has caught your interest, then begin your preparation by joining Digital Marketing Training In Pune or any other city of your choice.