8 Less-Familiar Ways to Maximize Your Etsy Sales
Do you have a shop on Etsy? If yes, you must be consumed with thinking about increasing your sales on this portal. For most Etsy shop owners, the thought of increasing their sales at times becomes a nightmare. Do you resonate with this? If yes, then you've come to the right place. Here are a few ways in which you can boost your Etsy sales.
Today, most sellers like yourself are searching for smarter and better ways to make the most of the Etsy system. All the tricks and tips are some of the less familiar ways in which you can maximize the Etsy sales by increasing product visibility based on experiences. Also, the regular updates that Etsy provides offer meaningful insights that can help sellers.
So, have you been wondering about how to increase Etsy sales? If yes, you can go ahead and try these fewer common tactics within your permissible framework and get the best results.
8 Less Familiar Etsy Tips and Tricks to Boost Etsy Sales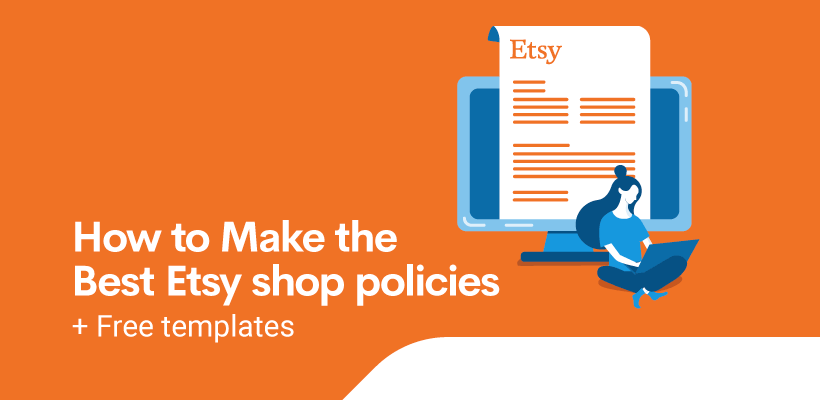 #1. You can do much more with social media images
One of the most creative hacks is to place the handles of the Etsy shop's social media profile on images when you are generating a listing. It acts as an innovative idea as most of the online businesses don't use this practice. However, it might be possible because not many people are aware of this tactic.
The practice can enable you to grow your loyal social media followers. Simultaneously, if you are pondering about the ways to maximize your Etsy traffic, you might certainly want to try this.
The reason for which it's useful that you can communicate with buyers at a personal level and also bypass any or all of the sellers' fee at Etsy. When you opt-in for this trick, you can get several benefits such as:
Engaging most of your visitors personally and retaining them.
Create important announcements after your visitors follow you.
Operate a highly focused giveaway campaign to increase efficiency.
Produce content that is share-worthy which can reach like-minded buyers.
#2. Add the keywords which get most searched
Most Etsy sellers who have used this tactic consider it a useful one! At times, the buyers move to the website not realizing what to buy, however, their intention seems to be clear.
They all want a gift-worthy item. It can be for their friend, mother, partner or father. Hence, when you use the most searched keywords, it will help you gain ample traffic, which might not be present for your item otherwise.
#3. The shop name should be the brand name
You must stand apart from others! It would help if you stood distinctive. Hence, you aren't really competing on a local platform the moment you decide to sell your product on Etsy.
It's because Etsy business usually competes with the global economy. So, it is essential to think of a way to stand out amidst millions of Etsy sellers that are similar round the globe.
It is essential to take ample time so that you get your Etsy store name correct. In fact, it is one of the initial things that your consumer will see and will also appear on the branding and packaging.
Your Etsy shop name will also represent your brand. Hence, it should be searchable and remarkable to attract the buyer's attention and compel them to return to your store for more.
Hence, it's a good idea to brainstorm a name for your Etsy shop that is unique. However, once you fix a name and feel unhappy about it, you always have the choice to change it later.
#4. Think of a compelling product description which sells
The moment you execute this, you will know why people say that the pen is always mightier than the sword. It means that it is possible to resonate with your buyer's aspirations and psyche with a customized description.
It enables you to don their hat and allow them to know all you want. It maximizes conversions, and as an outcome, it can help to maximize your sales on Etsy.
#5. Free-shipping acts as the keystone for customer delivery
It is not as unorthodox as it might seem. However, let's be very honest and know that it is one of the standard practices that sellers adopt to maximize their cart value. You need to decide on the minimum order value for qualifying for free shipping.
Or you could also come up with any price tag for the products where the free shipping doesn't create a dent on the profits. Several research and studies have revealed that users favour products than the ones which come with a cost. Hence, you can use free shipping to add to the customer delight, which will help maximize your Etsy sales.
#6. Sell Etsy around the world.
The more places you sell, the more individuals will see your things. Numerous nations just as U.S. States and segments of the world don't approach numerous things.
#7. Boat your Etsy things free if conceivable.
On the off chance that you can add the cost into the thing and not raise the cost without a doubt, it's smart thought to utilize free transportation. That is consistently a draw and it makes individuals need to buy.
#8. Etsy things at a bargain every now and again.
It's not difficult to have deals on specific things or each thing in your Etsy shop. Put things at a bargain. Examination. Just discounting things will stand out.
Once you implement these lesser-known and used tactics, you can witness increased sales for your Etsy shop.