Flutter vs. Swift: Which One Would Benefit Your iOS App Development the Most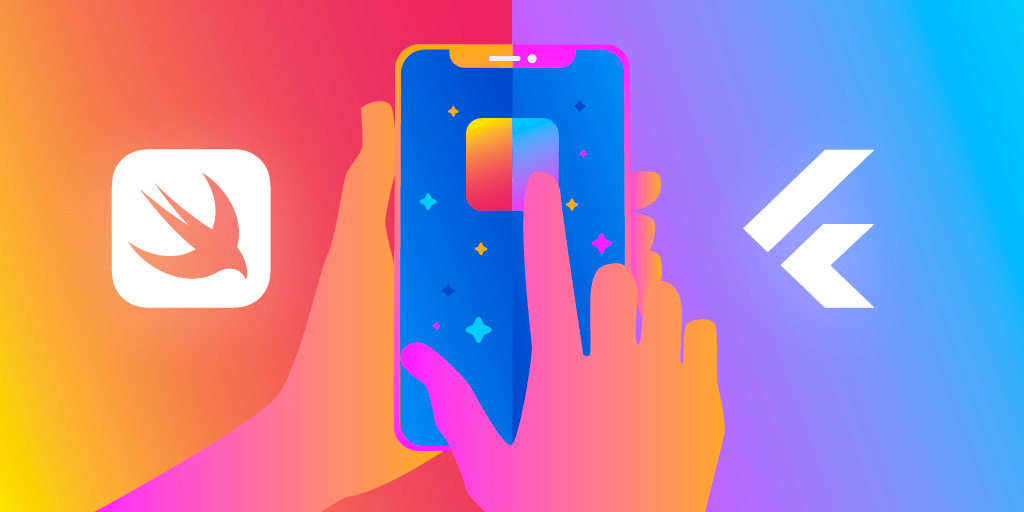 The demand for mobile app development lately has increased to an unimaginable extent. Everybody wants an app for every need.
The primary reason that has enhanced the demand further is the current high usage of mobile applications in several industries like E-Commerce, entertainment, gaming, etc.
There are also names like Flutter, Swift, React Native, Dart, Kotlin, and more coming on the surface when it's about iOS application development services for project development.
But what do they signify?
Well, they are the pillars behind any app's development. They help in building an app from scratch and take it to its final stage.
In this article, we will talk about Flutter and Swift in particular.
Swift and Flutter are associated with iOS mobile app development.
The battle of Flutter vs. Swift has turned more intense by the time. And the need for both will grow more as the businesses and goals grow!
With the information ahead, your minds will be exposed to a much more detailed comparison between both.
But, let's start with understanding then individually!
Flutter
Flutter, launched and maintained by Google, is a software development kit which is an open-source, cross-platform. It is used to build dynamic hybrid applications using a single codebase. It uses Dart for coding its apps. Flutter is somewhat similar to React Native.
Another quality of Flutter is that it enables iOS and Android app development using a single source code. The Flutter community is expanding with every passing day. This would result in hybrid app development becoming more dynamic.
Swift
With contribution and collaboration with many other Apple programmers, Chris Lattner started the development of Swift in 2010. It was launched in 2014.
Swift is a general-purpose and multi-paradigm coding language used for iOS app development. Swift was developed as a rapid, type-safe, and dynamic programming language that continually evolves with changing trends and demands. This always adopting change is Swift's one of the most striking features.
It offers efficient tools and extensive documentation for all the iOS developers out there. That's why developing with Swift is so much fun and simple.
Be it iOS app development in London or one in America, Flutter and Swift are well-known in every part of the world.
How does Flutter benefit iOS development?
Flutter is on everyone's lips.
Must be some reason!
And here they are!
Similar UI and Business Logic – Flutter allows sharing both the UI and UI code. It doesn't need platform-specific UI components to render its UI; instead, it shows the application UI is a canvas. This allows Flutter to rise above its competitors.
Sharing the UI and business logic with Flutter saves the time and effort of the developer.
Performance Similar to Native App – The performance of Flutter applications is mostly similar to the native app and better in situations with complex UI animation. There are no intermediate code representations or interpretations that Flutter relies upon. It reduces any performance bugs by building applications directly into the machine code.
Custom UI of Any Complexity – Flutter allows you to customize anything you see on the screen irrespective of the complexity.
All you can do using Flutter includes shared element transitions, clipping, transformations, etc.
Own Rendering Engine: Flutter makes use of Skia for rendering itself. This own rendering engine helps the UI built in Flutter to launch on any platform virtually.
How does Swift benefit iOS development?
There is no doubt how advantageous Swift is for iOS development. Here are some of its benefits.
Excellent open-source platform – The benefit of Swift is that it is an accessible and developer-friendly programming language.
The developers can easily explore Swift language to fix bugs, add new features & platforms, and so on. This makes a significant part of iOS app development services with high efficiency.
Code is Easily Readable – Swift's simple and clean coding has made it easy to read and write. The programmers can have the grip of Swift easily and create iOS applications using it.
Convenient Code Maintenance – You may often face the trouble of maintaining two code files to enhance the code's efficiency and development time.
In Swift's case, all the content of the header and implementation files are integrated into just one file. There is no need to maintain two code files.
Fast Development – It can be said that Swift is much quicker than any other language. As compared to Objective C, Swift is around 2.6x faster.
Dynamic Libraries – Dynamic libraries are referred to as executable codes to link one version of the app to different versions of the app.
Swift's dynamic libraries work on updating the apps. The new version code gets uploaded to the memory. This lessens the size of the Swift app so that it can perform the most.
Swift and Flutter: Comparison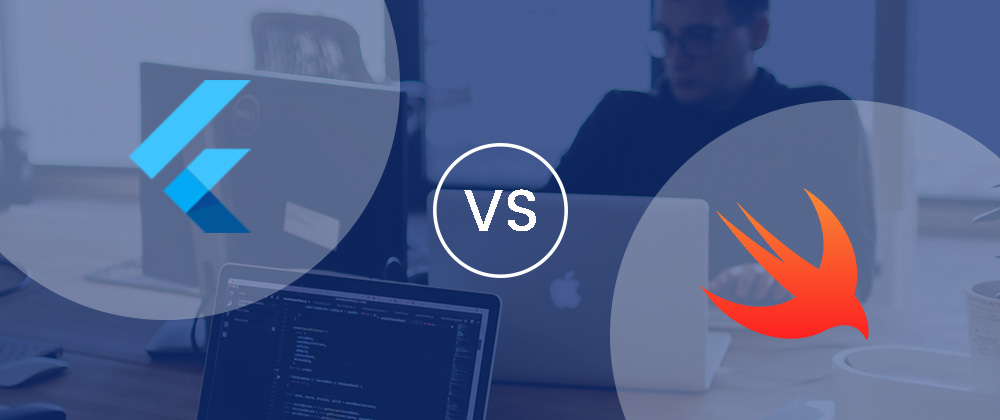 Just a difference of a few features is not enough to know the comparison between the two. There are different parameters based on which comparison needs to be done.
Let's take a look:
Onboarding Process
The Xcode and the Flutter binary is used in Flutter. Other text editors also can be used. Run the Flutter doctor command to verify all the requirements and then run the required commands in order to write a Flutter app.
You can build an iOS app with Swift using native tools from Apple. What is required is just Xcode!
After the input, Xcode generates an iOS template code, and this template can be used for writing codes for the app. Once done with programming, you click the Press Me button, which is there on display.
And there ends your iOS app development.
App Reloading
Flutter has the Hot Reload feature due to which simulator adjustments can be changed instantly. This reduces the waiting time.
When it comes to code modifications, Flutter is pretty fast. No matter which part of the world it is, if it's an iOS application development in London, India, or the USA, Flutter has got your back in this case.
With Swift, there have to be some changes made in features such as button names, accessibility & data. The time for changes is more with Swift. The developer has to ensure that the simulation represents the changes.
Development Time
iOS app development on Flutter is a bit slower as compared to Swift. However, this would change by moving past the threshold of initial clean builds. Flutter after that would become quite faster.
You can use Xcode or Xcode build command line to measure the development time in Swift.
Accessibility
Flutter doesn't support adding accessibility. Its documentation suggests measuring iOS apps using the Accessibility inspector tool of Xcode.
The UIKit framework has the accessibility for Swift iOS tools. You don't have to import another framework for allowing accessibility support.
App Testing and Documentation
Flutter comes with a strong testing framework. The unit testing process and functionality becomes a lot better with it.
Flutter offers a rapid documentation process and allows developers to handle the app development process at all stages.
For apps built using Swift, Apple provides XCTest. With a wide range of testing features, it becomes an excellent platform for testing.
Conclusion
Based on the comparison, we can say that both are different and offering in their own ways, which makes both a food option for iOS app development. What acted as the fueling agent for the increased demand for Flutter and Swift is the demand for hybrid mobile app development in the market.
However, the decision has to be made for one.
The choice and end decision is yours!
You have to make your choice based on the requirements to arrive at the right decision in the end.
Have enough information to choose sensibly!