How to Launch an On-demand Limousine App? [Step By Step Guide]
Limousines will never fail to capture the limelight of the discussions centering on luxury vehicles. Almost every one of us has this desire deep inside us to travel at least once in limos. Owning a limousine is a big deal, and not everyone can own it like other vehicles. Unlike other vehicles, they are quite expensive to own, and usually, people from richer communities only will be able to afford them.
Since owning a limousine is something unimaginable, people opt for limo services where they can travel in a limo to reach destinations. After Uberification, the concept of limo services began to fade away. This has resulted in the demand for limo services from people. This demand is what becomes business for entrepreneurs like you. In this blog, we will discuss Limousine app development to start your venture in the transportation market. 
What Are Limousine Services?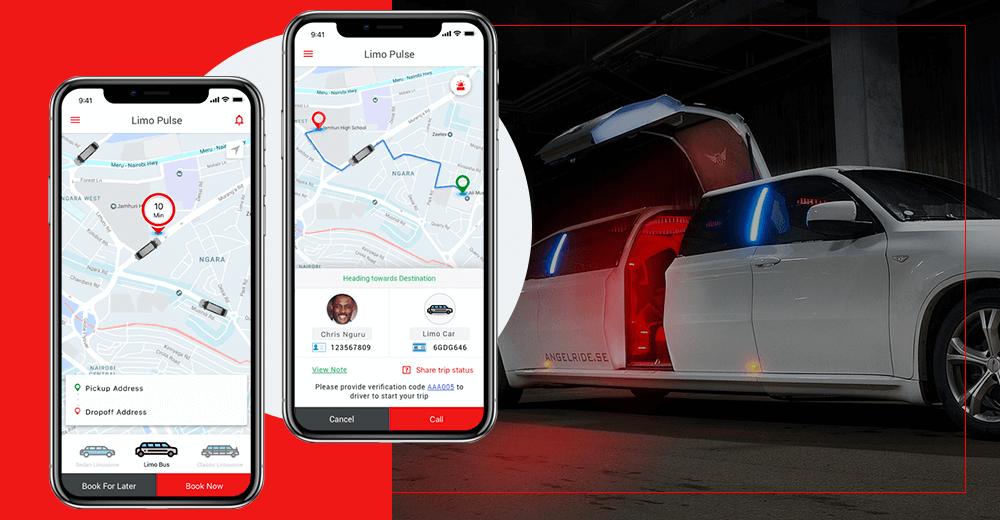 Taxicab services aim at providing accessible services to people at affordable prices. So it is open for anyone as it is quite affordable for people. But what about those people who are interested in luxury rides? To satisfy this particular section of customers, limo services were introduced.
A limousine or limo is a luxury car service where the car has spacious interiors and is presented in a luxurious manner when compared to normal cars. They are specially designed for events like weddings, airport travel, and long-distance travel. Though the product is designed as an expensive model, not everyone can afford it.
Therefore, effective marketing practices have to be followed so that they can reach the right people. 
Stages Involved In Converting The Plans Into Actions
The following are the stages involved in launching a limousine app,
Market research about limousine services
Limousine services is a niche concept where it focuses on a narrow lane. Limo services will not be opted for by normal customers as they are a bit expensive. So you have to start your hunt to identify customers with interest in luxury services. Once you have identified your target market, you have to proceed to find the frequency of their travels. In most cases, limousines are used for events, marriages, funerals, and group travels. You can consider all these metrics to figure out your business plans.
Select your business model
Before commencing your business, it is important to select a feasible business model for your business. In the limousine services business, there are two types of business models. Moreover, you can also follow the model of Uber, where it partners with drivers who own vehicles. The drivers will pay their commissions to the app. Otherwise, you can buy limousines and hire drivers to complete the rides. However, based on your budget and feasibility, you can adopt the business model.
Create your own USP
Apart from investments and services, you need to adapt uniqueness to stand apart in the market. If you are not going to offer them something different, there are fewer chances for them to reach your product. Hence, it is important to create your own uniqueness to stand out from the competition.
Get your legal procedures done.
Before starting a business, it is important to complete the legal proceedings as they have to get a nod from their respective government. Limousine services are not common in many countries. For example, in India, it is not permitted because of its size. So, where you plan to launch your business, seek permission from their respective government.
Hire your chauffeurs
Chauffeurs differ from normal drivers in several ways. Chauffeurs are specially trained to drive limousines. When hiring them, you have to see whether they are properly trained in the same. Hiring the best chauffeurs means a lot to your business. Most importantly, they should be able to communicate in multiple languages and must be aware of using various technologies.
Have the best app developers' team on-board 
The major success of your business lies in developing a sound app. If you do not have a technically strong team to execute the same, you can go for hiring app developers for developing your app. 
In the case of developing an app, it is highly advisable to go with a ready-made Uber clone app. 
The pre-built Uber clone app is customizable so that you can adapt the clone script according to your business model. However, the script will suit well for starting limo services also.
Notable features of a limousine app
The limousine app comes in three modules, namely the limousine user app., chauffeur app, and an admin panel. Here are some of the note-worthy features to include in your app,
Easy registration
The app should have an easy registration process so that they can register themselves easily with their login credentials. The easy login process will invite quite a lot of users to your app.
SOS button
An SOS button is an important feature that can help users while traveling long distances. They can use this panic button in case of emergencies.
Estimated time of arrival
When users book a ride using the app, they will get all information about their ride. This will help them track their rides easily. Through this, they can also predict their Estimated Time of Arrival.
Diverse payment options
The diverse payment options will help users to pay for their rides easily by just tapping on a few on their phones. Hence, you have to include mandatory payment options like UPI, net banking, card payment options to help people pay for their rides.
Chauffeurs' App Features
The chauffeurs' app must include all details about their trips. The record will include information about their rides, fares collected, the time duration of the rides, and the routes taken by them to complete the rides.
The chauffeurs should have the flexibility to accept or reject the ride request as per their feasibility. The booking management features have to be present in the app to avoid confusion.
Not only the customers are your asset but also your chauffeurs. So, give them the liberty to share their reviews and ratings for the trips.
The Final Thoughts
In the transportation market, there are several apps focusing on ride-sharing services. The doors for limousine apps are yet to be explored. The opportunity to shine out in the market is right next to you. You can opt for limousine app development and get into the market in no time! Gear up and emerge as a leader in the limousine business.