Tips on Creating Personalised Presentation Folders to Promote Your Business
Presentation Folders – Everything is conducted over the internet these days. And why shouldn't it? Buying products and availing of services over the internet is far more efficient and is very convenient.
This is the reason why a lot of online folders printing companies are sprouting everywhere, giving businesses and individuals the power to have their digital designs ordered and created as fast and efficiently.
And they don't have to leave their seats to do all that.
Presentation folder printing companies strive to be the one-stop shop for all people who have graphic design requirements.
What makes online printing companies different from each other are the quality of designs and service rates. Most of the time, these online companies offer package deals to their customers.
The package includes conceptualisation, design type, and the actual printing of the products ordered.
Here Are Some Tips That Businesses Can Employ When Creating Personalised Folders:
One effective way to push the reader to open your presentation folder rather than placing it to one side is to lure them with an interesting tag line.
This is a classic sales technique that can drastically increase your chances of making people pay attention to your folder content.
There are many ways to captivate your readers to look past the exterior and need to spend time designing your presentation folder.
Choose Colours That Reflect Your Brand
An A5 presentation folder distributed as a promotional item has one purpose for the company: to increase awareness of the brand.
Besides placing the company logo or tagline where users can easily see them, another way to reinforce the brand into the user's consciousness is by using corporate colours on the overall design.
There is a wide array of colours to choose from for covers of bespoke folders, and you can select those that reflect the brand.
Make sure to take advantage of this customisation option so that your promotional ring binders can adequately serve their purpose.
Use High-Quality Materials for the Folder
If it gets broken in just a short amount of time, it is not only impractical to the market but can also reflect poorly on the company's stance on quality assurance.
Some of the most popular materials used for personalised presentation folders include vinyl and polypropylene, and these also come with different price tags.
It is a low-cost yet durable option if you are only planning to use folders as giveaways. The other two are more expensive but can use them for presentation documents.
Include a Clear Cover – Presentation Folders
One way to ensure the longevity of A4 presentation folders is by enabling recipients to use them repeatedly and for different occasions.
One way to help users customise their A4 folder for various purposes is by including a clear cover. In addition, users can slip in a sheet of printed paper to change the surface's look and indicate its purpose.
This way, presentation folders can be used in assorted ways-as a note holder, task organiser, or even as a plan book for weddings – while keeping the company's image and message intact.
It is essential to think of business folders that are very useful and functional for your potential market.
Bespoke folders are one of the best products you can utilise in making your business known. Be sure to create durable ones so they can use them for a more extended period.
3 Ways to Make a Standard Folder Stand Out From the Crowd
Have you ever thought about making your landscape folders do more? Every office uses folders, but they don't just have to perform the standard function of storing documents.
Instead, you can get a lot more from your folders when you make them stand out from the crowd.
1. Choose Different Materials – Presentation Folders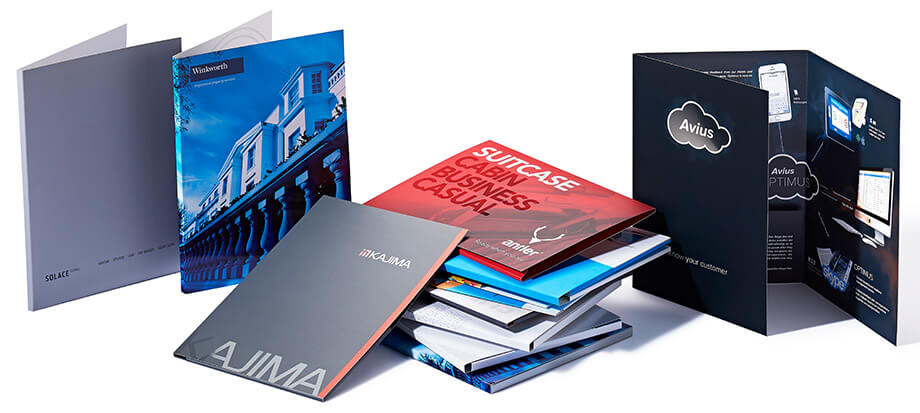 There are many materials available for you when you design customised ring binders. PVC, polypropylene and paper over the board are three of the most common, and all of these have their advantages:
PVC is affordable, flexible, protects documents well and is very versatile.

Paper over board folders are environmentally friendly, offer a wide range of print options, and are very flexible

Polypropylene is a rigid material that is heat resistant, lightweight and you can also recycle it
By choosing your material carefully, you can make your personalised folders look and feel different and make sure they make more of an impression.
2. Use a Unique Design – Presentation Folders
The design of your presentation folders is the simplest way to make them different from all the other binders and help them stand out.
When you use a company specialising in bespoke presentation materials to create your ring binders, you can take advantage of several design techniques, including:
Spot UV finish

Debossing

Metallic foils

Laminating
By using these techniques, you get an unlimited range of designs, so get in contact with a company that can provide such options and ask them what they can do for you.
3. Create Intriguing Copy – Presentation Folders
Use the space on your personalised folders to write something interesting, such as a marketing message or something humorous or eye-catching.
If you add some copy that catches their attention and position this on the front or back of your ring binders, you can help them stand out more.
Make it exciting and something different from the norm.
Of course, what you write will depend upon how you will use your business folder, but if customers or clients are likely to contact your binders, get creative and use some excellent marketing copy to make further use of them.
Conclusion
So, whether you use them for business or personal use, square cut folders continue to be the first choice for the presentation, protection and storage of essential documents.
They are sturdy, lovely to look at, convenient and highly re-usable and will last you decades if you need them to.
Always have a good supply of folders available for all your organisational needs. A5 folder is here to stay, and folder printing should all be glad they are. However, some older ideas are still best!