Top 5 Virtual Exhibition Platforms in India
Virtual exhibition platforms, the new trend  in the event industry. Since last year the event industry has experienced some major changes because of the COVID-19 pandemic.
India has experienced several lockdowns, curfews, and quarantines which made it impossible for the organisers to host traditional in-person events, that's when virtual events stepped in.
The awareness for social distancing also helped virtual platforms gain some popularity as the attendee can now attend the event remotely at their own comfort.
Since the shift of trends towards virtual events many online platforms were introduced in the market, as a matter of fact the competition has increased exponentially as even today, since the first lockdown, people are opting for virtual events amidst the second wave of covid-19.
Thus, it is important to scout and analyse the options available in the market and select the right platform for your virtual event.
Don't worry, in this article we will cover top 5 Indian virtual event platforms which will help you create an outstanding and successful virtual event of all time! Time to begin!
Virtual Exhibition Platforms- the Top 5
Virtual Exhibition Platforms have been around for quite some time; however, their true potential was realised after the pandemic hit the world.
Though the trend shifted because of social distancing, that is not the only benefit of the platform. Virtual exhibition platforms can help to create brand awareness and help you find potential leads which can later develop in healthy working relationships/partnerships.
Organisers have started leveraging the true potential of virtual exhibition platforms and are showcasing promising growth, though it is important to analyse your options.
It is significant to select the platform that complements your event the best, analyse the features and tools provided by the platform, as every platform has their own area of expertise, and based on that opt for a platform that fulfils your satisfaction.
Without further ado, let us take a look at top 5 virtual exhibition platforms in India:
#1. Dreamcast – Virtual Exhibition Platforms
Hosting virtual exhibitions & expos gets really easy with dreamcast. The fully customized 3D virtual event platform provides you with a set of DIY tools which you can customise as per your requirements.
Dreamcast comes with loads of  amazing engagement and networking features which you can leverage to engage your audience and encourage them to participate as well.
Let us take a look at some of the features dreamcast provides for your virtual exhibition:
Booth Builder with a range of customisations (buttons, icons, names, designs etc.), and DIY touch prints to make the experience smooth and personalised.
Communicate with your attendees even via 3rd party applications such as Zoom and WhatsApp while simultaneously leveraging the B2B meeting scheduler to arrange meetings with other exhibitors or attendees as well. Communication is seamless with input features such as 1:1 call (audio, video, and/or text), group calls, and tech support.
Analyse and track your event progression with live tracking tools such as digital footprinting. Understand your event result in depth by attaining valuable information regarding likes and dislikes of attendees. Manage the accessibility of event features and grant exclusive permissions for VIPs.
The customer support functions in real-time. Available for all the attendees to contact before, during, and after the exhibition. Resolve attendee's confusion with videos to guide them throughout the event with a live chat feature to contact the technical team.
#2. Xporium – Virtual Exhibition Platforms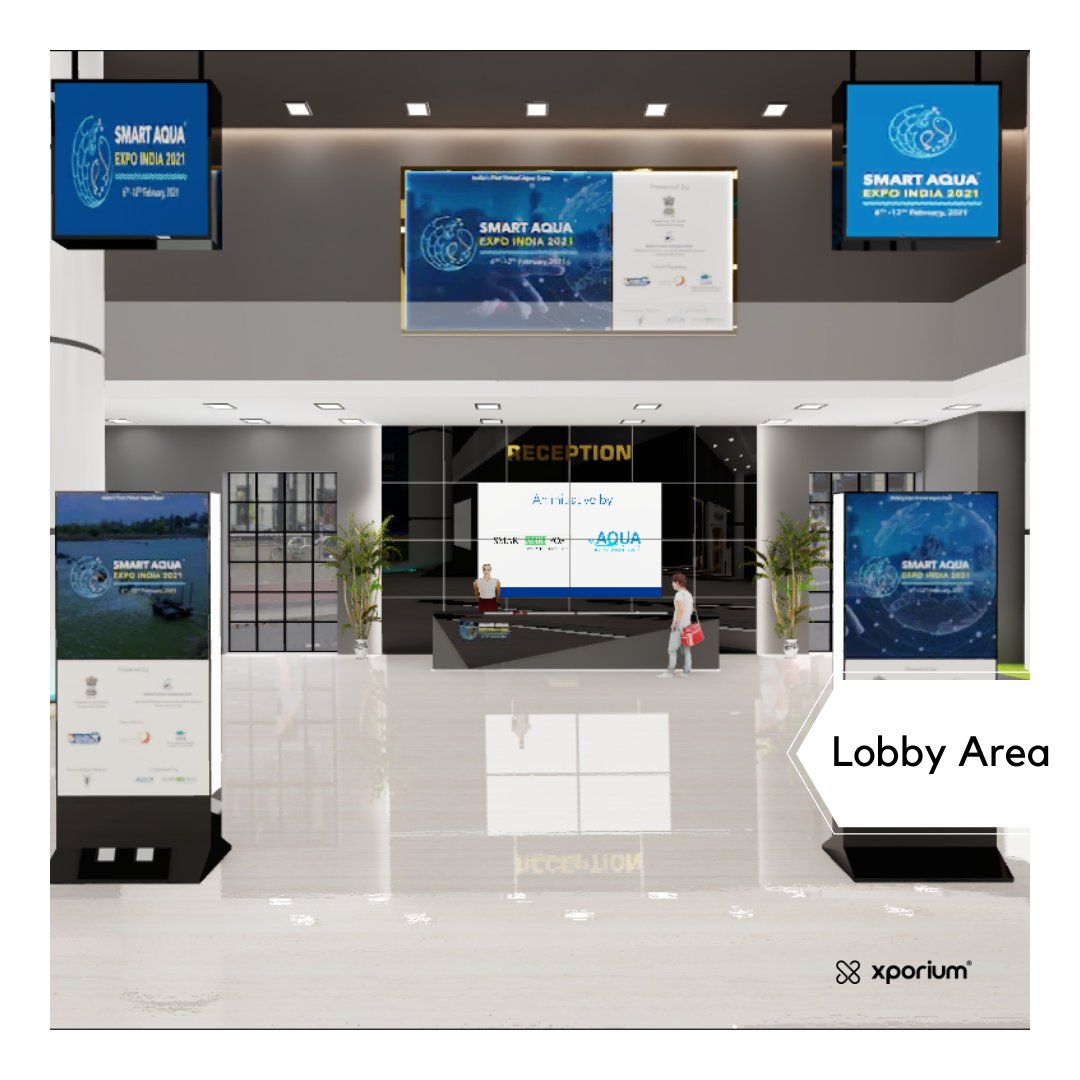 Xporium, according to their tagline, is the first virtual exhibition platform in India. They offer multidimensional projections for different types of exhibitions and make an attempt to replicate the traditional in-person experience on their virtual platform.
The platform has experience with a customised 3D environment that allows the attendees to develop a feeling similar to that of a traditional event by generating 3D navigation booths, content, and halls for the attendees to walk by and browse.
The platform also offers catalogues for networking and building partnerships.
Xporium leverages high-tech features to present an appealing virtual environment for your virtual exhibitions, webinar meetings, and fairs.
A group chat feature is available for live interaction between the attendees while also providing e-commerce integration for potential leads.
#3. Utradefair – Virtual Exhibition Platforms
The main focus of the platform is to run parallel with traditional events and recreate the experience.
The organiser is expected to present an approximate number of attendees, for the temporary events, and for every set of extra attendees the organiser has to top up to accommodate the attendees.
The platform generally deals with 2D projections and focuses more on information display. The platform also provides a simple set of features which may assist in generating high revenue.
Content presentation and upload is relatively easy and straightforward with customisation options however they are not up to the mark in attendee's connection and engagement.
#4. ExpoBurg – Virtual Exhibition Platforms
Their area of expertise is industrial exhibitions with a motive to excel in virtual space. The acknowledgment of the significance of traditional experience is lacking.
Tons of options for brochures and catalogues accompanied with live demos mainly suitable for exhibitions such as Education, textile, and fashion industry.
#5. Blues N Coppers – Virtual Exhibition Platforms
Recently introduced themselves to the virtual space with an origination from a design company. Provides 360 views with an immersive experience and personalised booths for the exhibitors.
Their area of expertise is live sessions and customer support which can help the attendees connect with each other and with the buyers, on a personal level.
Apart from connectivity and a 360-degree virtual exhibition booth the platform doesn't really offer much in other aspects. 
Over to You
Since the pandemic the event industry has experienced a shift in virtual events and that has led to the introduction of several virtual exhibition platforms in India.
Though the competition is vast it is necessary to choose the right platform for your event that not only complements but offers the best tools for your event.
A key thing to keep in mind is to scout the options that are presented and determine the tools and features you can leverage best from these platforms.
Above-mentioned are the top 5 virtual exhibition platforms available in India right now with their own area of expertise and set of tools. Browse and pinpoint the platforms that offer the right set of tools for your next virtual exhibition.